Ezekiel: Introduction to the base Ezekiel Timeline
The following graphic will serve as the basis for developing a compendium of timelines to facilitate the understanding of when the many prophetic events that are provided in the books of Ezekiel being examined in this site will potentially occur. More information on the timelines developed for this site can be found on the interpretations section, under the timeline link.
This basic timeline that will be used throughout these chapters in Ezekiel, summarize the most significant events, beginning with King Nebuchadnezzar. He was the first Gentile king to invaded and destroy Israel, Jerusalem and the temple. The perspective of this timeline extends from this initial point into the future when the Lord establishes his throne in this world to begin His reign for a thousand years (His millennial reign). Following the great white throne judgment, Revelation 20:11-15, the millennial kindom the Lord Jesus Christ ruled over, will continue with no end, into eternity future, Isaiah 9:6-7.
Points along horizontal bar provide historical events of importance to help understand the prophetic passages in the book of Ezekiel. Future events, as described in the Bible, are also shown in order of their occurrence. The critical historical events include; the crucifixion of Christ, His resurrection, (when the church began), Pentecost, the church age, (including the dispensation of grace), the destruction of Jerusalem by Titus which resulted in the worldwide dispersion the Jews, and their return to Israel in 1948. Future critical events are also covered, such as the rapture of the church, the seven years of tribulation, the battle of Armageddon, Christ's millennial reign, and then the future eternity on the far right of the time line.
The second timeline below the horizontal gold bar, demonstrates the continuity and consistency of scripture. This timeline overlays the general view of the chapters in Revelation, and how they align in time. Below that, is a third timeline of the chapters in Revelation, in juxtaposition with a generalized view of the latter chapters in Ezekiel. As evident in that timeline, several future events recorded in Ezekiel are concurrent, with those recorded in the book of Revelation.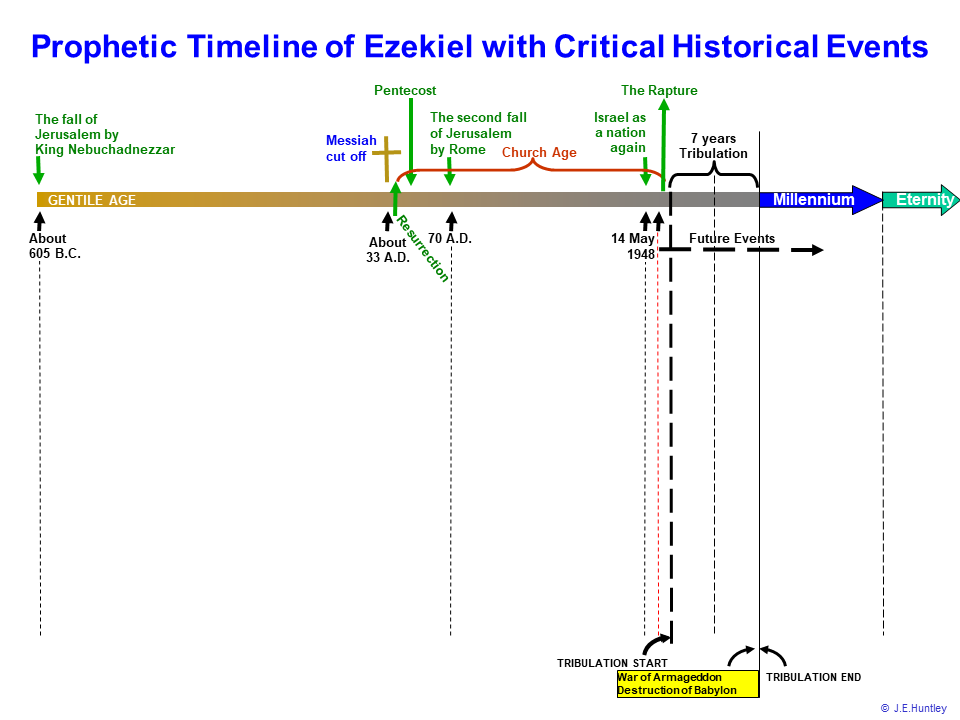 ---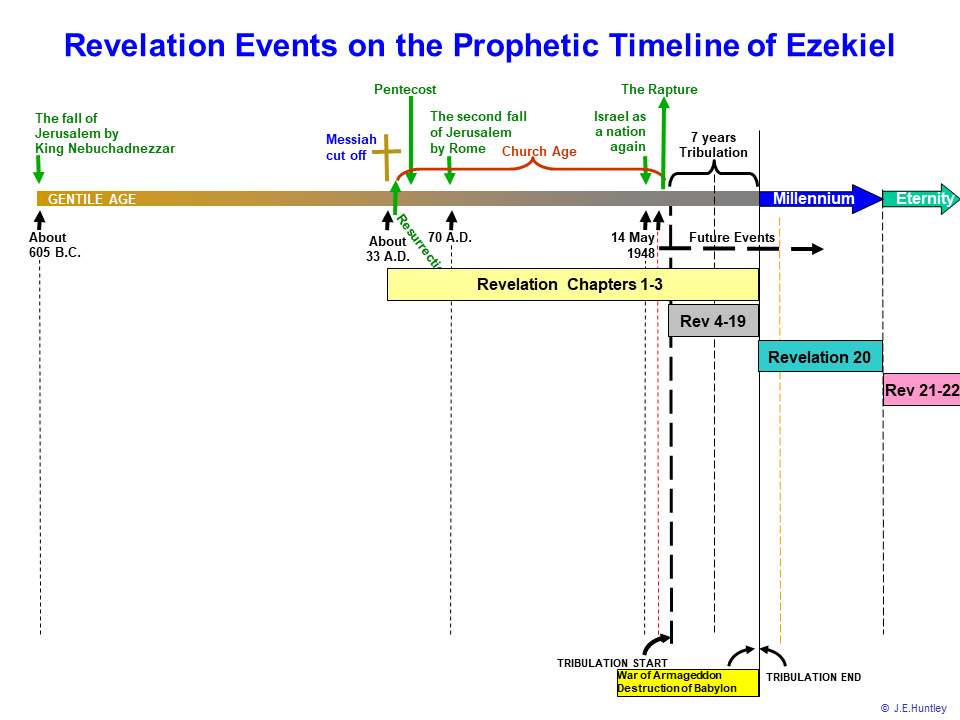 ---