Ezekiel: Chapter 37 Timeline
The time line for Ezekiel 37:1-28 below, provides a view of how the different parts of the prophesy of the bones are fulfilled. From the time of Israel's worldwide dispersion until they became a nation, they were a people of dry bones, a nation without a land, and spiritually barren, as dead bones. The box at the very bottom of the timeline provides context to understand the length of time, of nearly two millennia that this dispersion occurred.
The gathering of the people of Israel as a nation is illustrated by the bones being dressed with flesh, as shown below. It is not until the mid-tribulation that the children of Israel are reborn, and have the Spirit of God breathed into them. Only after that, and during the millennial reign of Christ will they rule with the Lord over this world, as shown below. Though the arrow extends through the millennium, the intent was to demonstrate the millennial reign of Christ, but He will rule, and his sanctuary will be forever in the midst of Israel, based on Ezekiel 37:27-28.
The next timeline below the horizontal gold bar, is the aggregation of the timelines from Ezekiel 34:1-31 through Ezekiel 37:1-28. The utility of this graphic is to show the faithfulness of the Lord to His word in the restoration of Israel in our days, and how she will be fully restored to all of her land in peace, within the covenant of peace that the Lord has made with them. They will again bask in the presence of the Lord God of Israel with a renewed relationship under the new covenant the Lord will make with His people. And, they will be restored as a unified nation as they were under King David, but only after the seven years of tribulation, and after the appearing of the glory of the Lord. As is evidenced below, there are many concurrent events described in just these few chapters in Ezekiel, such as the seeking of the sheep, and gathering them back into the land, which is the same time that Ezekiel saw the flesh being placed upon the dry bones in the valley to make a mighty army of men. Likewise, as the Lord judges and restores the children of Israel, he also cleanses them and enters into a new covenant with them, which is also the time when the breath of life is breathed into the nation once again. Finally, with the reign of Christ during the millennium, the land will be like the garden of Eden, and be incomparable with any other part of the world. It would be an interesting exercise for the reader to evaluate the apparent relationships among all these events, and compare them against scripture. The word of God is truly alive, and not just a collection of writings or coincidental events that have been prophesied to occur.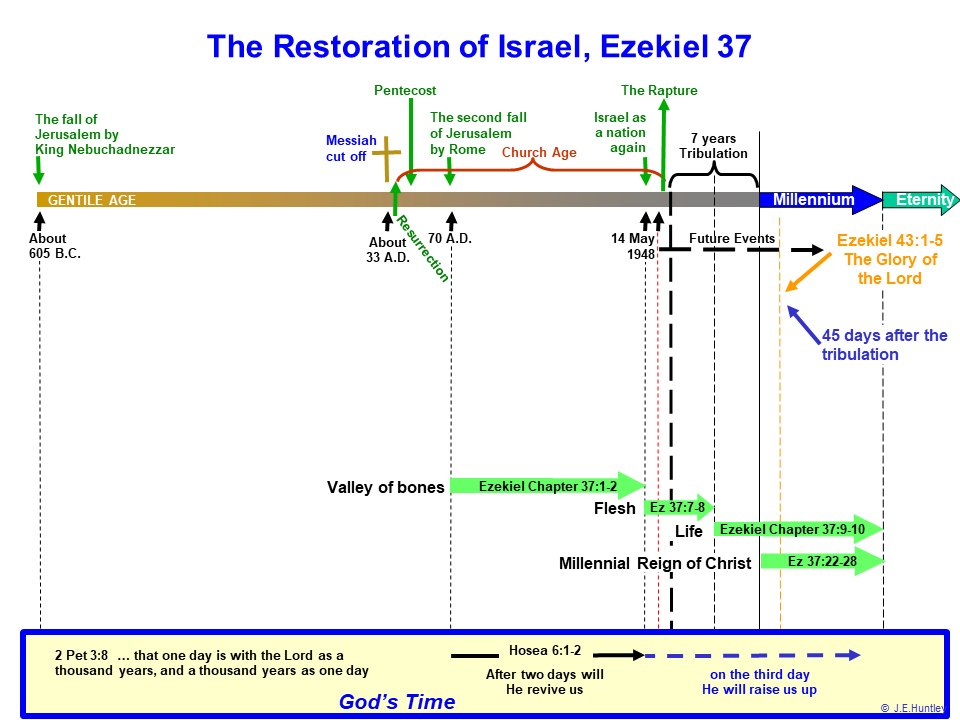 ---